151 MIGLIA - Trofeo Cetilar
A regatta that today, now in its 14th edition,
has established itself as the true classic of the Mediterranean
.
In the panorama of Italian sailing, the 151 Miglia – Cetilar Trophy is the symbol of a fascinating sporting challenge and an unmissable event. A regatta open to all, designed to highlight the strategic qualities of the crews taking part, but above all to experience emotions that only passion, sport and the sea can give rise to. A regatta conceived by boat owners for boat owners, bringing with it all the force of the sea and wind.
151 miles conceived to astound you, year after year!
A part of the success achieved over recent years is due to the
spectacular course for the regatta
: the unique setting takes the fleet from the Tyrrhenian coast to the small island of Giraglia, then heads towards the Island of Elba and the Formiche di Grosseto, finishing in Punta Ala.
The course is also known and appreciated for its extraordinary ambiguity:
perfect for newcomers to the great offshore who can sail inshore for a large part of the regatta, while at the same time
technical and tactically challenging for those who are more experienced
.
It is a course that links the 151 Miglia not only to the sea, but to the provinces of Pisa, Livorno and Grosseto, attracting both enthusiasts and the merely curious in their hundreds, in conjunction with the numerous land-based events that usher in the summer season along the coast of Tuscany.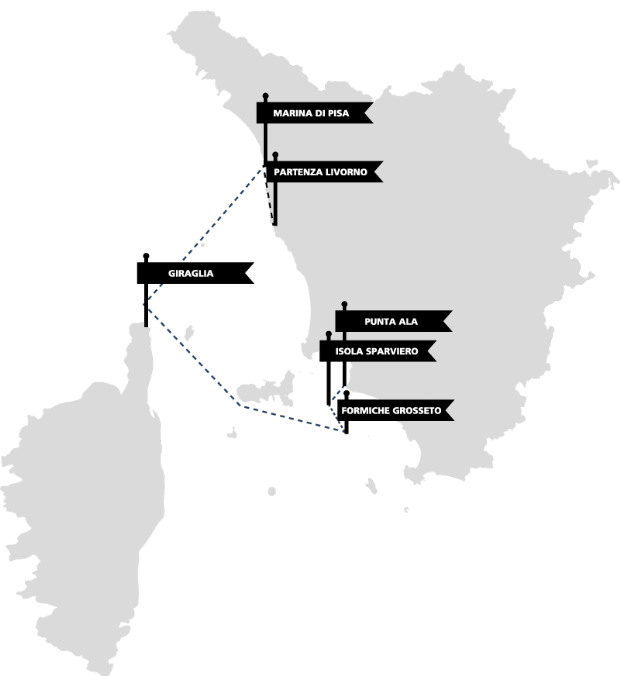 The estimated time of arrival is calculated by dividing the miles to go by the VMG (Velocity Made Good).
Our application uses the GFS (Global Forecast System) as the weather forecast model.
INSTRUCTIONS INSTALLATION
The photo of the 151 Miglia