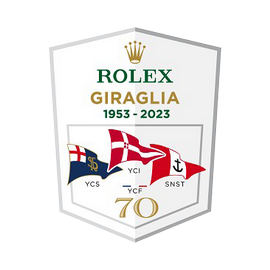 The Queen of Mediterranean
Edition number 70 of the historic italian - french regatta
The Giraglia was conceived in 1953 as a 241mn offshore race. It has since grown and today includes the approach race from San Remo and three days of coasting in the Gulf of Saint-Tropez. In 2023 this classic regatta celebrates its 70th anniversary. The Rolex Giraglia is organized by the Yacht Club Italiano with the collaboration of the Yacht Club Sanremo and the Société Nautique de Saint-Tropez. Under the patronage of: Yacht Club de France, Union Nationale pour la Course au Large (UNCL), International Maxi Association (IMA), City of Saint-Tropez, City of Genoa and City of San Remo. Rolex has been title partner of the Rolex Giraglia since 1998.

Rolex Giraglia 2023
The regatta begins on Friday, June 9, from Sanremo, with the striking midnight start for the Sanremo - Saint-Tropez race, which is about 60 miles long and is now the classic prologue to the Rolex Giraglia week.
On Sunday, June 11, there will be the second act of the regatta, which will kick off at 11 am with the first inshore race on the beautiful French Gulf course. Racing then continues until Tuesday 13.
The French part of the Giraglia concludes at the much-anticipated Rolex Crew Party on Tuesday evening and ahead of the start of the long race on Wednesday, June 14 at 12:00 pm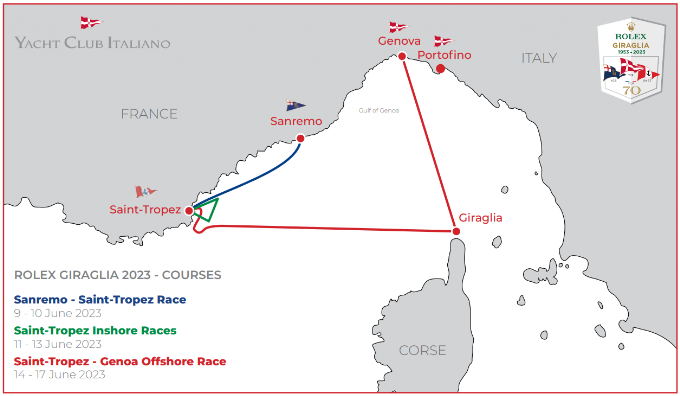 The estimated time of arrival is calculated by dividing the miles to go by the
VMG
(Velocity Made Good).
Our application uses the
GFS
(Global Forecast System) as the weather forecast model.
INSTRUCTIONS INSTALLATION